About Vikram Solar
Vikram Solar Limited is a Kolkata based second largest solar panel manufacturing company which provide solar panels at best price in India. Vikram solar was established in 2006 by Gyanesh Chaudhary as a part of the Vikram Group of Companies. Vikram was founded as a manufacturer of solar panel, solar system. Now, Vikram also moved into EPC (Engineering, procurement, and construction) management. In 2015, company completed the first floating solar power plant in India. Vikram solar was awarded as Fastest Growing Company with a turnover of 300 crore & 1000 crore as group.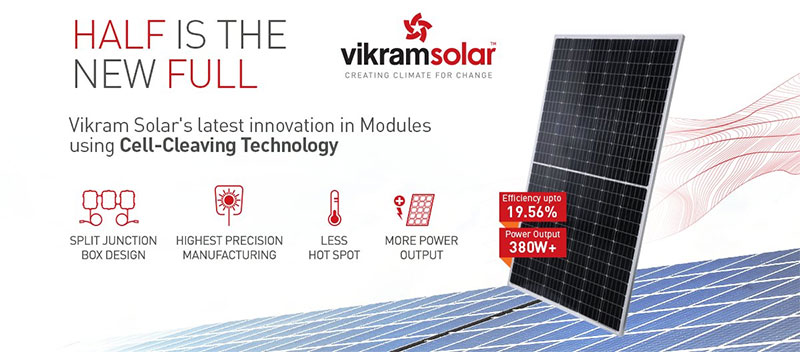 Vikram solar manufacturing unit has the latest machinery and various solar manufacturing equipments imported from United States, Switzerland, Germany and Japan. Vikram's solar panel production capacity has been upgraded to 1 GW in 2017. In line with Vikram Solar's focus on adopting pioneering and innovative technologies.
Vikram Polycrystalline solar panel
Polycrystalline solar panel is also called multi-crystalline, poly solar panel and many crystal silicon panel. For making polycrystalline solar panel, fragments of silicon are melted together. Here we have two types of polycrystalline solar panel.
Vikram Monocrystalline solar panel
Monocrystalline solar panel is also known as single crystal silicon panel. In mono crystal solar panel the edges of cells are cut off to reduce the production cost and also to maintain its efficiency. Further we have two types in Vikram mono solar panel.
Vikram Mono Solar Panel Price
Vikram monocrystalline solar panel price starts from Rs. 29 per watt for 350 watt range solar panel including 335 watt, 360 watt and 370 watt panels.